COMMEMORATIVE PIN
In 1999, the Beekeepers Association of British Columbia (BKA of BC) celebrates its 45th anniversary. To mark this event, the Millennium and the hosting of Apimondia '99 by Vancouver, the Club has commissioned a Commemorative Pin. The Pin was designed by Vancouver artist and Club member Dennis Yandle. It shows a honeybee sipping nectar directly from Vancouver, the site of Apimondia '99.
The Pin is blue, green and white enamel on gold, in die-stamped brass. Pins will be available during the Apimondia '99 at booth #77, Apitronic Services.
Mail orders and inquiries should be directed to: Beekeepers Association of British Columbia, 78024-2606 Commercial Drive, Vancouver, BC, V5N 5W1, Canada.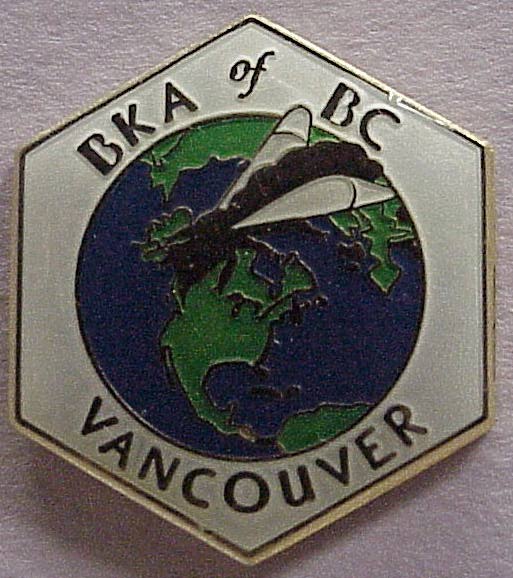 Copyright © 1999 by BKA of BC
Price:

$5.00 CAD or $3.50 USD plus shipping
Airmail shipping charges in Canadian Dollars applies to Canadian orders and in U.S. Dollars to the US and International orders and are as follows:
Shipping Charges
Quantity
Canada
USA
International
1
$2.50 CAD
$3.00 USD
$3.00 USD
2-4
$2.50 CAD
$3.00 USD
$3.00 USD
5-9
$5.50 CAD
$5.00 USD
$5.00 USD
10-19
$5.50 CAD
$7.00 USD
$7.00 USD
Orders of 20 Pins or more receive a 20% discount on the Pin price. Please add 15% of the discounted pin price for shipping.
Copyright © 1999-2005 Mihály Simics. All Rights Reserved.
Apitronic Services, 9611 No. 4 Road, Richmond, B.C., Canada, V7A 2Z1, Ph./Fax (604) 271-9414
e-mail: msimics@direct.ca | http://www.apivet.net | http://www.beevenom.net | http://www.apitherapy.net | http://www.corp.direct.ca/beevenom/